July 2021

In 2008, Hamilton Point released its first Sustainability Report to assess and document the environmental impacts of the companies recommended in our Global Core Equity Strategy. For 2021, the report has been updated to provide our most recent evaluation of the sustainable efforts of companies in our Global Core and Equity Income portfolios. We believe sustainability is not just a measure of environmental stewardship, but a measure of a company's long-term ability to adapt. Sustainability is a broad scope of every aspect of the business, from the beginning of the supply chain to the customer. It is important to analyze a company's impact on its employees, customers, community, environment, shareholders, and the bottom-line, as an amalgamated understanding of its ability to grow and sustain. Furthermore, we have introduced Sustainalytics ESG ratings to our report. These ratings focus on measuring the environmental, social, and governance risks to showcase how these factors could affect long-term investment performance.
By incorporating a wider focus, we show how companies are performing in an ethical way. While "dirtier" companies can absolutely outperform more sustainable companies, it is important to note that these companies may be exposed to much more risk. For example, the BP oil spill in 2010 and the Volkswagen emissions scandal rocked these companies stock prices as they were engaging in environmentally harmful and unethical practices. The updated Sustainability Matrix and Report provides a deeper and more relevant understanding of our companies' records on sustainability.
It was not so long ago that corporate efforts to promote sustainability were viewed as primarily philanthropic in nature and associated costs were often bemoaned by businesses as cutting into their bottom-line. Today, it is our belief that this philosophy has been turned on its head. With an ever-growing demand for greater financial transparency, diversity in corporate governance, and an increasingly environmentally conscientious consumer, sustainability is now seen, in our opinion, as a key to creating an efficient, profitable and responsible organization.
The Hamilton Point Sustainability Matrix
This chart is a graphic representation of all companies in our Global Core Equity Strategy as of June 30, 2020. The upper right box depicts what we believe are the companies exhibiting the best sustainability characteristics, while the companies and industries that appear to be lacking in their sustainability efforts are located towards the bottom left.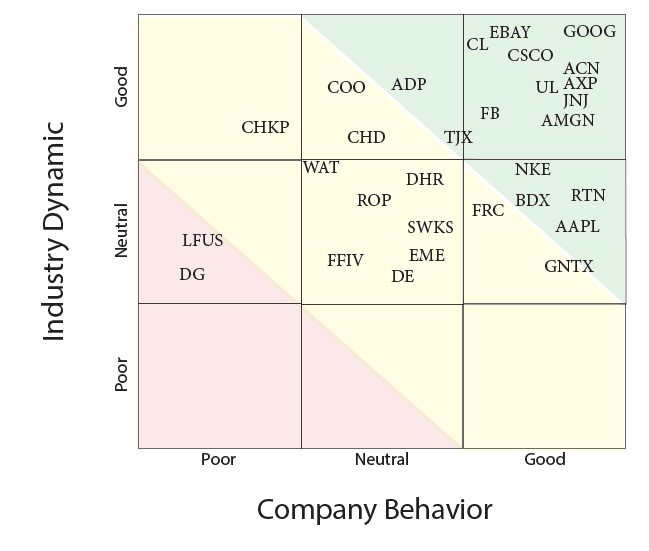 View the full report here
About Hamilton Point
Hamilton Point is a Chapel Hill-based registered investment advisor managing approximately $700 million as of June 30, 2021 for wealthy families and non-profits. Because they are not affiliated with any banks or insurance companies, the team is able to focus exclusively on managing money and not selling insurance, annuities or other financial "products."
Hamilton Point is registered with the U.S. Securities and Exchange Commission with its principal place of business in the State of North Carolina. Registration does not imply a certain level of skill or training. A full description of Hamilton Point and its investment strategies and advisory fees can be found in Hamilton Point's Form ADV Part 2